Main page — Catalog — FERTIS NPK 7-20-28+S+ME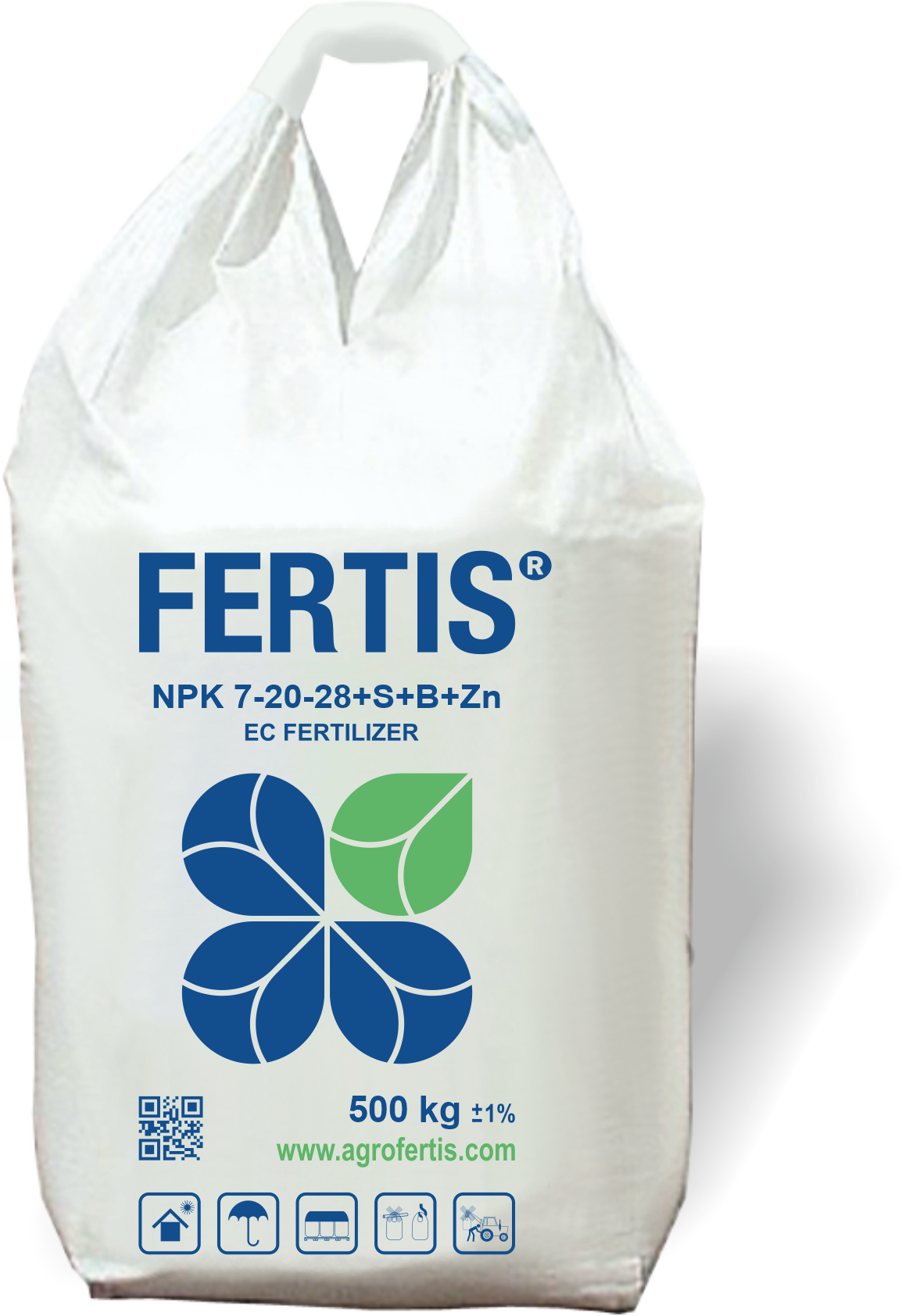 FERTIS NPK 7-20-28+S+ME
The complex granular fertilizer FERTIS NPK is specialized for the needs of agricultural crops.
The phosphorus-potassium fertilizer for crops sensitive to these elements provides balanced nutrition. Due to the high content of water-soluble phosphorus, which is immediately available for plants, the plant begins to grow very fast, first of all, the root system and vegetative mass begin to develop intensively. Potassium provides the accumulation of plastic substances, increases the winter hardiness of winter crops and improves the quality of the crop. Sulfur stabilizes the nitrogen nutrition of the plant and plays an important role in protein formation. The microelements boron and zinc help to activate and regulate the synthesis of sugars and starch and are responsible for their move in the plant. FERTIS NPK 7-20-28 does not require a large amount of moisture for dissolution, quickly releases the elements in a plant-accessible form and provides the crop with nutrition throughout the growing season.
Methods:
Basic application
Starter application
Content of nutrients:
Nitrogen
in ammonium form NH4 - 7%
Phosphorus
in water-soluble form P2O5 - 20%
Potassium
in water-soluble form K2O - 28%
Sulfur
Trace elements
Boron - 0,02%
Zinc - 0,05%
Packing: 500 Kg
ADVANTAGES AND PROPERTIES OF FERTILIZER:
quality raw materials for fertilizer production;
a complex of fertilizer elements in one granule;
high availability of phosphorus - contains 90% of water-soluble phosphorus;
rapid solubility of granules and release of available elements;
the uniformity of the granules (2-5 mm) - uniform application;
high physical properties of granules (strength is 3 MPa), resistance to caking;
the fertilizers designed for the needs of crops;
the content of elements in the fertilizer is in the most accessible forms, the increased coefficient of their use;
the need for a small amount of moisture when dissolved.
RECOMMENDATIONS FOR APPLICATION:
Application during basic soil tillage is 150-400 kg/ha
Application at sowing is 50-150 kg/ha
Fertilizer type and exact application rate depends on the biological characteristics of the crops and soil and climatic conditions.